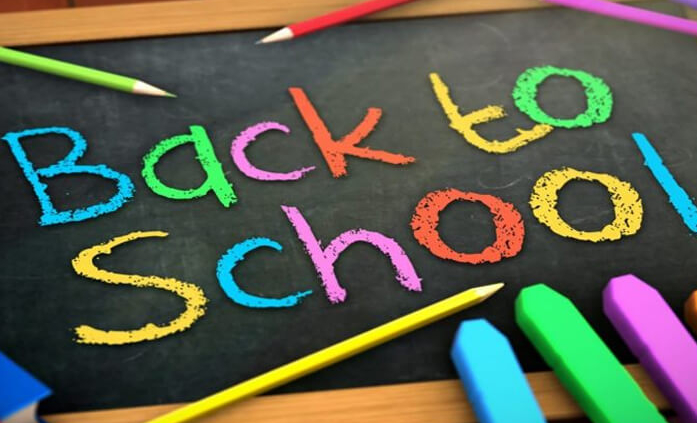 How to create a back to school routine?
By Sharlyn Diéguez
Going back to school means getting back into a routine. Routines may not involve vacations spontaneous water fights or the freedom to grab a good book and lay on the lawn chair all day, but they offer different kinds of benefits.
A routine can:
help keep your life simple and organized, and we all know how crazy the school year can get.
provide your children with a structure to learn important skills like how to set priorities, meet deadlines, become more independent and develop habits of self-care.
Here are some ideas that can be applied at home to make the
return to school easier for the children.
According to Lianna Wilson and Sarah Straus¹, it is important to let your child know that his nervous or apprehensive feelings about the start of school are normal. All children (and adults!) have a hard time getting back into the routine of the school year. The knowledge that he is not alone in this experience will help your child feel he's being heard and understood.
In Vivint´s article², she mentions how important is to use a calendar. It might include school events, assignments, doctor appointments, or different activities. You might also want to consider color-coding, using stickers, or highlighting to keep your calendar even more organized and easy to use. Include your child in the organization of the calendar.
Your family's back to school morning routine can set the tone for the rest of the day. Mornings have the potential to be the most productive time of day.
Of course, it's not guaranteed every morning will run smoothly and perfectly, which is why it's important to know your children.
Do they have a hard time waking up so more time should be dedicated to this part of the morning?
Does breakfast require certain limitations or preparations?
Do you have a little girl who likes you to spend time styling her hair before school?
According to Lisa Chamoff ³, nothing makes for a productive day like a good night's sleep. We all know how grumpy children (and parents) can get without a solid night of rest. Getting your children to bed on time is a vital part of your school routine. Here is a chart that could help you know how much sleep your child really needs.
Here are some tips on what you can do at night to make your back to school morning routine even more efficient.
Layout clothes for the next day
Prepare lunches
Set out breakfast plates
References
¹ Lianna Wilson and Sarah Straus, Helping children back into the school routine, link
² Vivint Smart Home, How to create a simple back to home routine, link
³ Lisa Chamoff,9 tips for getting back to school routine, link
https://trinus.org/wp-content/uploads/2020/01/How-to-create-a-back.jpg
578
697
cassandra
https://trinus.org/wp-content/uploads/2022/01/logo-trinus.png
cassandra
2020-01-16 00:10:13
2022-02-02 15:30:30
How to create a back to school routine?