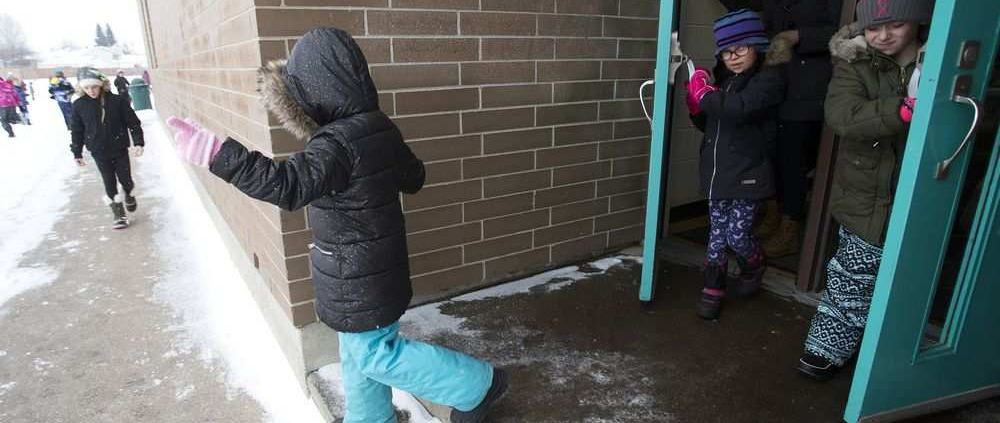 Stretching out recess: One Alberta school doubled its breaks and is finding more focused kids
Ask any elementary school kid how school could be better, and they'll likely ask for more recess or time in the gym.
One rural Alberta elementary school principal wondered, would it be so crazy if he granted their wish?
This fall, Bruderheim School, which is about 60 kilometres northeast of Edmonton, has doubled the number of recesses for its 130 students, ensuring they never spend more than an hour at a time sitting at their desks.
"When they're kids, they're not necessarily allowed to leave the classroom and take those breaks when needed," said Bruderheim Grade 6 teacher Ariane Taylor. "As adults, we give ourselves permission to do that, and I think we forget that for kids sometimes."
Two months into the experiment, the kids are more focused, teachers are happier, and attendance is up.
Throughout the day, students have four, 15-minute recess breaks and no more than an hour of instructional time in between. The change is based on a Finnish style of learning with the goal of maximizing student focus in the class room.
Inspiration from Finland
Principal Paul McKay had the idea last year while reading about the Finnish education system, which has many fans among Canadian teachers. His students weren't always coming to school ready to learn, he said, so teachers were working with kids on "self-regulation" — techniques that can help them stay calm and focused.
Bruderheim students had two daily recesses last year — one in the morning and one at lunch. Grade 1 teacher Sara Secrist said it was tough convincing them to come back inside. They dragged their feet, reluctantly removing their winter clothes. Some would even cry.
By the late afternoon, the kids were antsy, rocking on chairs, chewing pencils and chatting with their friends instead of working.
Although she was trying to teach, she would spend the afternoons managing disruptive behaviour.
Now, her students are more co-operative coming in and out. Their pencils are mostly unchewed, and they focus more quickly, because they know they'll be running around again in an hour or less. Fifth graders help the little ones with their mitts and coats to speed up the transition.
Grade 4 student Gwen Cardinal is happy to have more opportunity to play tag and talk with her friends in different grades. "It's a really big change. It's kind of nice," said Gwen, 9. "It's really fun. I love it."
Last year, 10-year-old Leah Johnson didn't often feel like going to school. The Grade 5 student found it hard to work after sitting at her desk for a long time.
This year, her older brother in junior high is jealous of her frequent recess breaks.
"You're not bored in the classroom," Leah said.
How it works
McKay acknowledges he was nervous about trying the modified schedule at first. He needed to squeeze in the provincially mandated hours of instruction and wanted to stay focused on literacy and math skills.
The first recess of the day is an "instructional" recess, which is part of students' physical education time. One morning last week, teachers led kids in outdoor and indoor games and activities, such as four square or pinwheel tag. Other children climbed on playground equipment, plowed yellow toy trucks through the freshly fallen snow and shot hoops on the basketball court.
Inside, kindergartners and first graders are careened across the gym floor as teachers called out animal names. For recess during more inclement weather, the school has beanbag toss games and hopscotch-like decals on the hallway floors.
Although the other three recesses are less structured, teachers have noticed students are more likely to lead games and activities themselves.
McKay said Bruderheim is the only Alberta school he's aware of that's trying this tack. He's closely monitoring it, checking in with teachers every six weeks to review benefits and challenges. So far, it's working well and, if that continues, the school will keep the schedule next school year, he said. Other interested educators have began quizzing him about the approach.
After the second recess of the day, Ariane Taylor's Grade 6 students settled quickly into their desks to review the elements of writing a good paragraph.
They were refreshed and ready to focus again, she said. Anyone can do something for one hour.
"I'm really excited to be a part of this," Taylor said.
You can acess de original article here.
https://trinus.org/wp-content/uploads/2019/01/20181105db0011.jpeg
750
1000
cassandra
https://trinus.org/wp-content/uploads/2022/01/logo-trinus.png
cassandra
2019-01-17 18:14:37
2022-02-02 16:44:04
Stretching out recess: One Alberta school doubled its breaks and is finding more focused kids