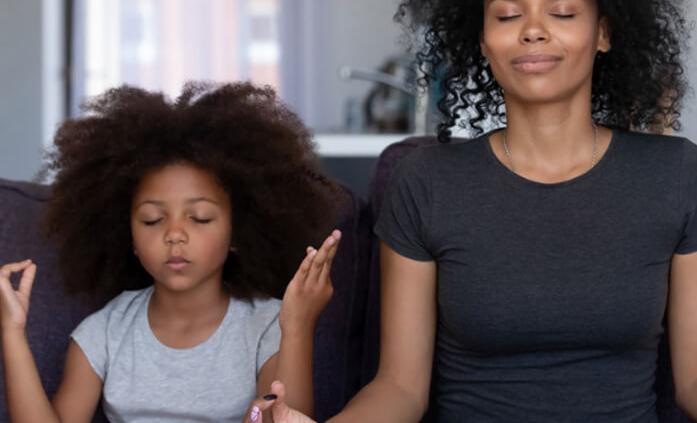 The Gift of Presence During Quarantine
Written by Dr. Meg Meeker from MeekerParenting

Due to the COVID-19 pandemic, life in our country looks very different, and every parent is wondering the same thing:

«Now what?»

Given the general upheaval this pandemic has caused, it's understandable for us to be anxious, panicky, stressed, and overwhelmed. I'd probably even come alongside you and say, "Yep. That's where I'm at today."

I get it. I really do.

Now that your children are home with you 24/7, their confusion, frustration, disappointments, and anxiety are being added to your plate every minute. You're carrying 10x's the load you were before you were stuck at home (with no escape).

So before we go any further, I need you to stop reading this and take a big deep breath…

Breathe in… 2… 3… 4…



Hold… 2… 3… 4…



Release… 2… 3… 4… 5… 6…

Now repeat that a few times.

Close your eyes, focus on your breath, and relax.

If you didn't take the time to pause and do that, go back.

I'm serious…

These moments of stillness are going to help keep you calm during all of this. Don't rush through it thinking you don't have time to because that's exactly what you have right now — TIME.

Now, I'm going to say something that may be a little controversial…

This "forced rest" with your family could be the thing you all need the most.

These later mornings, open afternoons and blank-slate evenings could be the key to becoming the parent you truly want to be.

I use the word "could" intentionally.

You have a choice. This is up to you.


While you can't control the economy, how this virus will run its course, or even your job status — you can control how you parent your children.

It may look like building more forts, watching more movies, and baking together. It may look like sticking to your discipline routine or weeding out the bad habits your kids (and you) have developed over the last few years. Or, it may simply be learning how to be more present with your kids.

These are all good.


I encourage you to search hard for the silver linings in this quarantine. I promise you, there are some. While this situation is one of the most difficult (and inconvenient) we've ever faced, we are resilient and creative people! After all — we're parents 😉

Here are a few ways to find the good and focus on presence during quarantine:

Don't be glued to the news 24/7. Check once in the morning and once in the evening and call it good! Don't have your news channel blaring in the background during the day. This will only stress you out and worry your children. They can feel your tension.
Create a loose structure for your kids' day.Having a routine will help keep you and your kids grounded. Have set meal and snack times, limit their personal screen-time, get them outside for a few hours a day if you can (backyards and open parks are your friend), have a "quiet-time" sometime in the afternoon where the kids have to entertain themselves for a few hours (age appropriate, of course), and then keep evenings more open for a family activity, like a movie or game.
Allow yourself some grown-up "me" time.You're already exhausted, so don't skimp on this. When kids are napping or having their "quiet-time", do what you can do to relax.Don't use the time to work, work, work. Maybe that means taking a nap, watching an episode of your favorite show, reading a book, Facetiming a friend or simply sitting in silence. Make sure you're communicating this need to your spouse or partner (and older children) if they are home and able to help!
Realize this is time you wouldn't have normally and try and cherish it.I know this is hard. I know you have a million things you are worried about. But I need you to understand something — this extra time that you are getting with your children may end up being one of their favorite childhood memories.They'll recall how mom and dad were home. How mom and dad wanted to play games, watch movies, and build forts with them. They'll remember laughing with you at how bad you were at cooking or baking. They'll remember the quiet moments where you let them talk and you had the freedom to just sit, and listen.

I've said it before and I'll say it again… Your children want YOU, above all else.


So give yourself to them. Soak up these moments and cherish the forced slowdown.

For those of you who are reading this and are truly in the depths of despair, please seek some help. Reach out to a trusted friend or group and be honest about where you're at.

Invest in your online community and make that connection time a priority. There are people wanting to help everywhere we look right now — and you are worthy of that support.

Love you guys. Stay healthy and safe.

We're all in this together.
https://trinus.org/wp-content/uploads/2020/04/The-Gift-of-Presence-During-Quarantine.jpg
578
697
cassandra
https://trinus.org/wp-content/uploads/2022/01/logo-trinus.png
cassandra
2020-04-03 19:04:59
2022-02-02 15:02:22
The Gift of Presence During Quarantine