The Most Meaningful Gifts for Kids Who Have Everything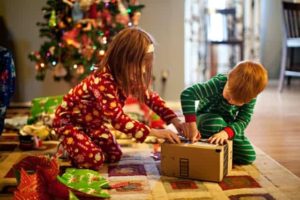 Inside: These are the best gifts for kids who have everything because unlike most kids' gifts that'll end up forgotten, kids will treasure these for years to come.
A couple weeks ago, my husband and I asked our three kids about their wish lists for the holidays. In our family we follow the four-gift tradition, so the kids gave us gift ideas that fall into those categories: something you want, something you need, something to wear, and something to read.
But while her sisters were debating on what should go in that coveted "something you want" category – Magna Tiles or a Monchhichi doll – our oldest Abby said something that caught me off guard.
"Mommy, I think I just want a book for Christmas."
Wait…What?!
I cocked my head. "What do you mean? Isn't there anything else you want?"
"Well…" She bit her lip. "There's nothing I need. I have enough socks and belts, and you just got me new tennis shoes. And there's nothing I want, either. Just books. So if you get me a book, that's something I want and something to read."
And I realized she was right.
While in previous years, our finances have been extremely tight, this year we were finally in a position where we could afford to get the kids the basic things they needed when they needed them – new shoes when they grow out of the old ones, winter coats when the weather shifts, new socks to replace the holey ones, and so on.
Abby's comment made me realize that the "something you need" category wasn't going to work as well this year: But what to get a kid who has everything they need?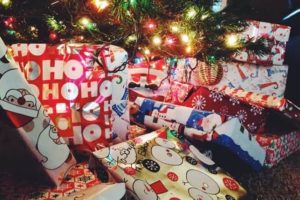 Here's the Best Solution
The hard truth is that a child who already has everything he needs (and maybe most of what he wants too) won't fully appreciate gifts of more stuff.
Here's why: Research shows that after a while, the human brain gets used to new stuff. The fancy scientific term for this phenomenon is adaptation, and it means that when we're exposed to something on a regular basis, we adapt to it.
In other words, when your child gets used to that new stuff, it becomes as notable and interesting as the carpet he walks on in your home every day. In other words, not at all notable or interesting.
This is why after a few days or a couple weeks, most gifts end up shoved in a closet or somewhere else out of sight, forgotten and collecting dust.
But unlike physical gifts of toys and gadgets, one type of gift never blends into the carpet. In fact, this gift builds memories your child will treasure for the rest of her life.
You may have also heard these referred to as activity gifts, unstuff gifts, or in the case of kids – non-toy gifts.
Whatever you call them, experience gifts are the perfect gifts for kids who have everything because they'll treasure those gifts for months and even years to come.
Related: 4 Gifts for Christmas: How to Make Your Family Happy With Less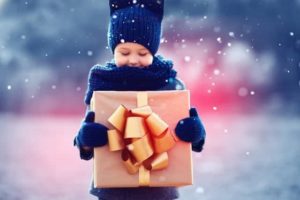 34 Most Meaningful Gifts for Kids Who Have Everything
The problem with most lists of gifts for kids who have everything is they focus on outlandish gifts the child is unlikely to already own. But if a kid really does have everything they need, an off-the-wall gift isn't what will make them happy.
That's what makes this list different because the gifts in this list will make kids happy.
Forget the toys and trinkets and gadgets, and get the kids in your life these meaningful gifts that they'll appreciate long after the wrapping paper is gone.
Download: More Joy, Less Stress: 2018 Christmas Planner
Gifts That Will Surprise Them, Again And Again
When shopping for gifts for kids who have everything, don't forget the power of an unexpected gift they'll receive throughout the year.
Send a monthly box of fun.You can find a monthly subscription box for just about anything nowadays, from art projects to science experiments. This makes it one of the most flexible gifts for kids who have everything. And even though you're technically gifting a subscription box to the kids, parents benefit too because you're helping keep the kids busy with a new project once a month! Here are a few of the most popular subscription boxes for kids:

Kiwi Crates– These monthly hands-on projects are perfect for curious kids, kids who love science, creative kids, kids who love to tinker, and more…in other words, every kid. We received this as a gift last year, and my kids run to the mailbox on the day it's due to arrive every month. From toddlers to preschoolers and grade schoolers to tweens and beyond, these boxes come custom tailored for every age group – even newborn! To get $10 off your first Kiwi Crate subscription box, click here and use the coupon code SHARE10. (Ages 0-16)
Little Passports– Every month, kids get a letter from fictional pen pals who travel the world, learning about other cultures along the way. Kids receive a passport and wall map to help them follow along, as well as fun activities, souvenirs from each month's destination, and more. (Ages 3-13)
KidArtLit– Each month, the folks at KidArtLit handpick an awesome new hardcover picture book and create a related art project for your family. They box up the book, all the art supplies you'll need, and their inspiring mini-magazine and ship it all right to your door. What I love about this subscription box is that it helps kids engage on a deeper level with books, and that's a recipe for raising a lifelong reader. Plus, there's no commitment with KidArtLit – you can cancel anytime or easily skip shipments. (Ages 3-8)
Kidstir– Teach your child to cook with this monthly subscription box that includes kid-sized cooking tools, kid-friendly recipes, a cookbook binder to keep all the recipes, and more. This subscription box is more affordable than some others, and you can turn the cooking into a fun family activity. (Ages 4-12)
How to Wrap It: Print a flyer about the subscription and add a note about when they can expect their first box.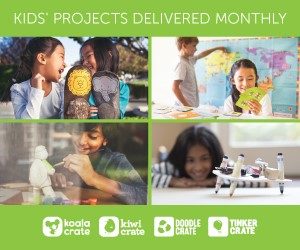 To get $10 off your first Kiwi Crate subscription box, click here and use the coupon code SHARE10
Send the kids mail.Find a fun kids' magazine and gift a subscription. The kids will love getting mail addressed just to them, and they'll be building their reading skills without even realizing it. The experience of getting a surprise in the mail once a month keeps this non-toy gift from blending into the carpet. Plus, most kids' magazines include activity and craft ideas for kids. And after the kids are done reading, they can pass the magazine along to a friend. A few ideas for you: Highlights, Ranger Rick Jr, or anything in the Cricket magazine family like Ladybug for 3- to 6-year-olds, Cricket for 9- to 14-year-olds, and more.
How to Wrap It: Pick up the current issue in a local bookstore and wrap that, then when they open the gift let them know they'll get a new one in the mail every month.
Show kids the world.If you travel on a regular basis, make a promise to send a postcard to the child from every place you visit. Even if you just pick up a postcard from the airport on a layover and drop it in the mail before you catch your next flight, you'll make that kid's day when she gets your postcard in the mail. If she has a map or globe at home, she can find where you visited on the map for a bonus geography lesson (sneaky!). As a companion non-toy gift, you can give the child a scrapbook where she can collect all the postcards you'll be sending. Just remember to keep stamps in your carry-on luggage at all times!
How to Wrap It: Gift a map or a globe so the child can follow along with your travels, like this laminated set of a world map and U.S. map (or this U.S. map decal if that works better). Or include a scrapbook where she can collect the postcards, like this adorable adventure book modeled after the (also adorable) movie Up.
Gifts They Can Use Every Day
Remember: The danger of "stuff" gifts for kids who have everything is that they'll blend into the carpet. But these physical gifts are different – you won't find any toys or gadgets on this list to end up shoved in the back of a closet or under a bed. These gifts deliver a daily experience that will delight the child (and maybe her whole family too).
Give the gift of conversation.How many of us rush through meals with our families, not stopping to enjoy the time with our loved ones? Turn a spare mason jar into a conversation jar by filling it with these family conversation starters. The child can put the jar on the dinner table and pull out a new question every night to have memorable conversations with their family. And the best part of these conversation starters for families is that they'll get you more than the dreaded one-word answer from kids. We use these every night with our kids, and they've been a game-changer, helping us end every day feeling connected, loved, and happy.
How to Wrap It: Download this set of family conversation starter cards, and drop them all in a spare mason jar.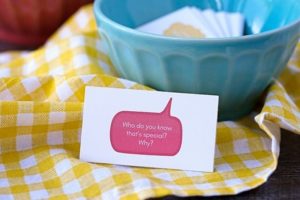 These family conversation starters make one of the best gifts for kids who have everything.
Make a fun playlist.Pick a few songs the child will enjoy and save them to a USB flash drive. This gift is super easy – just follow these step-by-step instructions for how to share a playlist. Then every time the kid fires up the playlist you gifted, they'll think of you!
How to Wrap It: For ready-made playlists, check out 12 Happy Songs: Dance Music for Kids and Parents, Too or The Ultimate Playlist of Girl Power Songs That Will Inspire Your Daughter. Type up a list of the songs, then wrap that with the USB drive.
Open the door to important (but private) conversations.From moms to little ones, this mother-daughter journal or this journal for mothers and sons will give you a magical way to get your kid to open up about what's going on so you can stay connected. You take turns writing in this journal, and in the process, you find out what's weighing on your little one's heart. This non-toy gift will definitely end up being a gift for both of you!
How to Wrap It: Just wrap the journal for moms and daughters or for moms and sons. Easy peasy!
Write a letter.This gift doubles as a keepsake that kids will treasure the rest of their lives. Write a special handwritten letter to the child to share your favorite memories, childhood stories they'll love, or any words of wisdom you want to pass along. Or if you want writing prompts, you can get these Letters to My Daughteror Letters to My Son prompted letters and give your child 12 special letters. (You can also get a version for your grandchild, for your friend, and a version kids can fill out to their future selves for when they grow up.)
How to Wrap It: Write the letter on festive stationery like this beautiful winter scene or this simple birch tree letterhead with matching envelope, then wrap in a box. Or if you get the prompted letters to your daughter, your son, or your grandchild, you can just wrap that.
Gifts of the Most Precious Commodity
When it comes to gifts for kids who have everything, gifts of time can be the most meaningful of all.
Make a date once a month.Kids love one-on-one time with the important people in their lives, so gift them a year of monthly "dates" of one-on-one time with you.
How to Wrap It: Grab 12 colorful envelopes like these, label them with the months, and insert a card or brochure about each special day. Activities could include going out for ice cream, bowling, seeing a movie together, or anything else the child would enjoy doing with you. For more ideas, check out this mom's storyof how she put this gift together.
Make a coupon or certificate for a gift of your time.Here's a free printable coupon book for kids I made just for little ones. You'll find coupons for staying up 30 minutes late at bedtime, camping out in the living room (with s'mores of course!), and more kid-friendly experiences that make amazing gifts for kids who have everything. By the way, you should know that as I was designing this set of coupons, my oldest daughter Abby peeked over my shoulder and asked, "What are you doing?" I explained the idea of the coupon book, then added some examples to get the point across: "Like you could use this coupon to pick anything you want for dinner one night, or this one to take a mother-daughter mental health day off school and work, or this one to bake any dessert together…" She said: "Wow. That's all I want for Christmas! Just that."
How to Wrap It: As a bonus for joining my weekly newsletter, download the free printable coupon book. Then use a hole-punch on the coupons and bind them with a festive ribbon or a colorful book ring like this. Wrap the coupon book in a small box, and you're good to go!
Offer to teach a skill you have.The skill you teach could be a foreign language, how to play an instrument, or the secret to baking the world's best chocolate chip cookies.
How to Wrap It: Whip up a "coupon" in a word processing app that says something like, "This coupon is good for guitar lessons from me every Sunday afternoon in January!"
Gifts That Will Take You Places
When you need awesome gifts for the child who has everything, gifts where you visit somewhere special are perfect because they give kids a treasured memory that will stay with them for a long time.
Go to a show.Get two tickets to a show at a local performing arts center, such as a play, a musical, or a dance performance like ballet. Then make a date of it with the child, and they can dress up if they're into that. This may be their first experience attending a performing arts show, so make a date of it!
Odds are the child may have never been to a show – so this gift is sure to stand out in her mind. I can still remember my first experience at a show in fifth grade. It was an Italian opera and I understood absolutely zero of the words, but sitting in the theater as it filled with a sound I'd never heard before created a sense of complete awe that I'll never forget.
How to Wrap It: Find tickets to a show and wrap the tickets.
See a movie.Pick a movie you know the child will enjoy, or get a gift certificate and let him pick out the movie. Then go see it together. When we gift this to our kids, we take an afternoon off work and take them to the theater. They get to pick out any treat they want, watch a new movie, and get a special dose of connection from us during the day. Win-win-win!
How to Wrap It: Slide the tickets in a festive envelope like this adorable snowman dude or in a regular envelope decorated with Christmas-y washi tape. Or you can wrap the tickets in a big cardboard box to throw the kiddo for a loop.
Watch a game.If the child has a favorite sport, get her tickets to an upcoming game. Or if she doesn't have a favorite sport yet, take her to a game for a sport she's never watched live before. Don't forget to check for a local college or university game, or feel free to try a sporting event that's a little outside the mainstream. (For example, as soon as our toddler gets a little older, we'll be gifting tickets to women's roller derby to our kids.)
Nearly 30 years later, I still have vivid memories of my older sister taking me to my first ever pro baseball game and later my first pro basketball game.
How to Wrap It: If you'll be attending outside in the winter weather, you can wrap the tickets with a portable hand warmer.
Sign them up for a class.Kids' brains are like sponges, so think of a class they might enjoy and sign them up! Even better, sign up both of you together so it's an experience you'll share. Classes for kids will depend on your area but could include a cooking class (Kids Cook Real Food is an online course for kids), music lessons, jewelry-making, knitting or sewing, scrapbooking, self-defense, photography, woodworking, a session at one of those paint-your-own-pottery businesses, a yoga class, or anything else they'd enjoy.
How to Wrap It: Print a flyer about the class and wrap that. To take it one step further, if they'll need any basic supplies before class starts, pick those up for the child and wrap them.
Take them on a tour.Many cities offer tours for visitors that can be lots of fun for residents, too. From food tours to architecture tours and more, you can help the child see their town in a fresh way by gifting tickets to a local tour.
How to Wrap It: Print the tour itinerary and wrap that.
Invite the child on a hike or a nature walk scavenger hunt.This works great when you need to walk off a big holiday dinner and the kids are feeling cooped up.
How to Wrap It: Print a scavenger hunt map, add a note explaining that you'll take the child exploring, and wrap it up. To take it one step further, you can gift an annual membership to a local nature center.
Make a donation to sponsor an animal.Most local zoos, aquariums, and animal sanctuaries allow you to donate in this way. Then you can plan a visit to the zoo and pretend to find the animal you sponsored. You can talk about how your donation went towards feeding the animal, getting medicine for when it's sick, or cleaning the poo out of its enclosure. When it comes to gifts for kids who have everything, sponsoring a zoo animal is an experience gift that will keep on giving.
How to Wrap It: Some zoos will send you a certificate about the animal you sponsored, or you can make one yourself. As another idea, you can give your little one a miniature stuffed animal along with the certificate, like like this cute owl, lion, or elephant.
Cover a gift membership to a children's museum.This is a gift a family can use year-round, and it may just save parents' sanity on a rainy day! If you don't have a children's museum in your area, try gifting a membership or tickets to a nature center, butterfly garden, planetarium, science museum, or some other attraction.
How to Wrap It: Print the membership certificate from the museum and wrap that.
Plan a camping trip.Kids love this one, even if it's just camping in your backyard or setting up a tent in your living room. The fresh air and quality time (and s'mores) will be an experience your little one will remember. If they don't have a tent yet, here's the 4-person tent we got for our living room camping adventures – it's affordable and has great reviews.
How to Wrap It: Fill a box with everything they'll need for their camping adventure, from all the fixings for s'mores to a portable camp light.
Go to an impressive park.If the family has a fourth grader, you can get the little one and their immediate family a free annual pass to all national parks in the U.S.
How to Wrap It: Print the annual pass and wrap that.
Go for maximum fun factor.Get tickets to a local amusement park, theme park, or water park – or make plans for some other extra special outing like a bouncy house center, indoor rock climbing gym, trampoline park, bowling alley, miniature golf course, skating rink, or anything else the child might enjoy. Not only will they have an awesome day when you take them on this special outing, they'll build memories that will stick with them for a long time.
How to Wrap It: Print a photo of where you're taking them (or a promotional flyer would work too) and wrap that.
Gifts That Will Make the Whole Family Happy
With the following gifts for kids who have everything, you can make the whole family happy, too.
Put together a family movie night in a box.Grab your favorite family DVD off your shelf, like We Bought a Zoo (with the family-friendly soundtrack!) or The Goonies, or give an Amazon gift card for $5 so they can rent one. Then add some popcorn (our favorite is this maple kettle corn), soda or juice, and a cozy blanket for everyone to snuggle up under.
How to Wrap It: Find a spare basket, fill it with the movie night supplies, and wrap it all in one fell swoop.
Plan a family game night.Pick a date, print out an invitation, and put all the electronic devices away for a night and just have fun. As a companion gift for this experience gift, pick out a new board game or card game your family will love and make a game night basket with potato chips, soda or juice, and the new game. We have a wide range of ages in our family, so our favorite board games for all ages are Sleeping Queens, Sequence (the toddler helps match the cards to the spots on the board), Sushi Go, and good ol' fashioned dominoes (here's a beautiful set in a wooden box with great reviews that's on our wish list).
How to Wrap It: Put together an invitation for game night, then print that and add in all the supplies like a new game, snacks, and drinks.
Related: Forget Candyland! This Is the Best List of Board Games for All Ages
Puzzle it out.Pick out an awesome puzzle the family can do together, like one from our favorite puzzle company Ravensburger or this 33,000-piece puzzlethat's apparently the world's largest. Bet you they won't forget the experience of solving that puzzle together! Or if you have puzzles sitting in your game closet, you can always re-gift them to another family.
How to Wrap It: Wrap the puzzle, and that's it!
Capture the family's joy together.Purchase a session with a family photographer as a gift to a family in your life. Or if you're a skilled photographer yourself, offer to take an afternoon at the park with them to snap a few shots. We had a family session soon after our middle child was born, and I'm so incredibly happy we have a record of that time together as a family! It wasn't in the budget after our next child was born, so I can attest that this would be a much-appreciated gift.
How to Wrap It: Type up a page that says something like "good for one session with a family photographer."
Give back together.Setting up a volunteer activity the whole family can do together can be an amazing Not only will you be giving the family an experience they'll remember, but you'll be fostering the kids' budding compassion and empathy for others in need. You can volunteer at a local food pantry to sort food donations, help out at a soup kitchen preparing or serving food, visit an assisted living facility or nursing home to bring some much needed light into the residents' lives, deliver meals through a program like Meals on Wheels, make a meal to serve to families at a local Ronald McDonald House, leave food and notes of encouragement for families with babies in the NICU, or put together care packages of food and essentials like a toothbrush to hand out to the homeless living on the streets of your town.
How to Wrap It: Put together an event invitation in your word processing app, then print that and wrap it.
Take them on a trip.If you really want to go all out, gift a vacation to travel somewhere fun for the whole family. To be fair, that's a pricey gift, but to put it in perspective, you can add up what you were planning to spend on physical gifts for everyone in the family. You may find that the cost of a vacation isn't too far off, especially if you plan a road trip to somewhere nearby or your trip is a downtown staycation adventure with one night in a hotel. Remember that the gift of a vacation is something that your loved ones will remember for years, whereas the latest gadget or toy will quickly fade into the background and be forgotten. It's just human nature! (Side note: On our bucket list is a train ride to somewhere fun, so that's another travel option that could be fun for a family.)
How to Wrap It: Type up the travel itinerary, print it, and wrap it with a kids' travel journal like this. Or you can put together a slideshow of photos from the destination and flip through photos until they catch onto what the gift is!
Gifts That Will Inspire the Child's Creativity
Gifts that inspire a child to create and make can be great gifts for kids who have everything.
Give kids an excuse to play in the dirt.Kids love playing in the dirt, so you might as well get some veggies out of the deal and give them everything they need to start a garden.
How to Wrap It: Give the little one a few packets of seeds so they can start a family garden. If you like this idea but you have a black thumb (hello, that's me!), do what we did and use an all-in-one garden kit like this.
Fill a basket with supplies.Find a fun kids' activity, craft, or art project, then fill a basket with all the supplies the kids will need.
How to Wrap It: Put together a basket with everything they'll need, plus the instructions printed out. Or you can just gather random supplies you already have around the house, like washi tape, festive stickers, and colorful Sharpies, and throw in a brand new sketch book like this mixed media journal. (Check out this former art teacher's recommendations for what every art gift basket needs!)
Make a play dough gift set.Check out the instructions here. You'll just need homemade dough and accessories like toothpicks and buttons. (If my zero-craftiness self can make homemade dough, you totally can!)
How to Wrap It: Find a spare basket or box and fill it with the play dough and assorted goodies. If you don't have any accessories to throw in, you can get a set of fun play dough tools like this set. My toddler and preschooler use this set every time we bust out the play dough.
The Best Books for Every Child – Even the Kids Who Don't Love to Read
One of the absolute best gifts for kids who have everything? Books! Even if the child in your life doesn't love to read, use this list to get ideas for unique books they'll enjoy too
Share a book of memories.Kids love flipping through photo books of their favorite people, but creating a scrapbook can be time-consuming. My favorite tool for quickly creating photo books is Shutterfly. You just upload your favorite photos, use one of their templates, and you're good to go. This gift is especially perfect for toddlers and preschoolers, but my tween adores her family photo books too. To get 25% off your Shutterfly order, click here and use the coupon code 25OFF2018.
2. Give them a book that transcends reading.Especially if the child doesn't enjoy reading, get them a book they can put to good use. These books give the child projects and activities they can do or make, and they'll likely find they do love books after all. Here are a few of our favorites:
3. Share your childhood favorite.What was your favorite book as a child? Get a copy to share with the child, and write a special note on the inside cover about why it's your favorite.
4. Give them the best.We read a lot of kids' books in my house. A lot. We check out at least 20 new picture books a week, and my oldest polishes off a chapter book every other day. And here's what we've learned: Just because a kids' book is on the Amazon bestseller list doesn't mean it's something kids will actually enjoy reading. Here are our top recommendations for each age range, approved by kids and parents:
https://trinus.org/wp-content/uploads/2018/12/The-Most-Meaningful-Gifts-for-Kids.jpg
578
697
cassandra
https://trinus.org/wp-content/uploads/2022/01/logo-trinus.png
cassandra
2018-12-05 17:26:57
2022-02-02 16:48:42
The Most Meaningful Gifts for Kids Who Have Everything