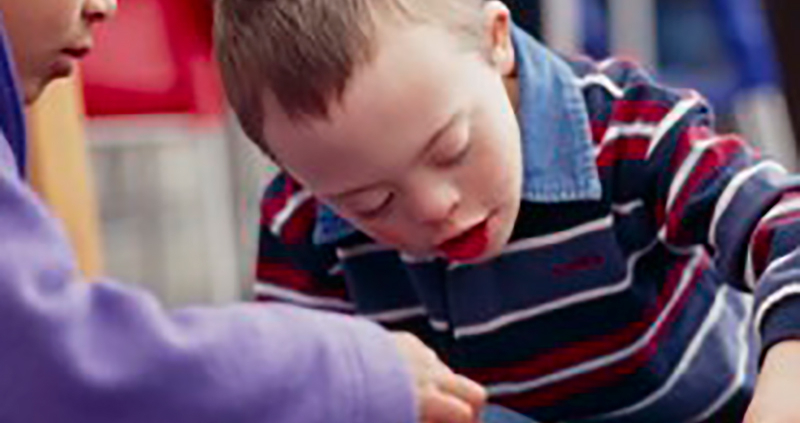 Inclusion in education in Guatemala, is it lacking?
Written by Rocio Colina, President of 502 Down Syndrome
In Guatemala, we lack options of schools with inclusive education. There are only a few schools that are open to inclusion, even though education is a human right of every child, regardless of his or her capacities.
In some cases schools are willing to open to an inappropriate inclusion, such as "accepting" children but in a "special needs class". A true inclusive learning environment is not a place where students with a disability learn in isolation from their peers. In other cases, they accept children and have them form part of the same class as other students, but only with a shadow teacher or by attending the class simply as listeners, only occupying a space, but without learning or without a code from the Ministry of Education, which means that the institution does not have an educational commitment towards the student. In other words, it doesn't matter to the institution if the student with a disability learns or not, because there isn't a commitment.
Real inclusion means regular schools welcome the child, permitting him or her to form part of the same class as regular children, with pairs of the same age, learning the same contents with pedagogical adjustments, based on an educational commitment. Inclusive education is about how we develop and design our schools, classrooms, programs and activities so that all students learn and participate together, in which the student has an educational curriculum that is adapted based to his or her needs.

Picture by Lauren Shear
For children with Down syndrome, it is especially important for them not to have a shadow teacher because the purpose is to make them independent for an adequate development. In some extreme rare cases they might need a shadow teacher only if a multidisciplinary team determines it would be better for the student.
In Guatemala, the Ministry of Education has already a special education department, enabling all students to attend regular schools with pedagogical adjustments. The majority of educational institutions in Guatemala ignore the fact that they can count on this department.
A lot of times, because of the lack of information, they perceive it as something complicated to implement, or they might think that it can get difficult to deal with the Ministry of Education, which might lead to cause fear to be open up for inclusion. Other times this openness is denied due to the absence of attitude, information or will.
It is significant for schools to inform themselves and prepare their teachers to initiate with a real inclusion in order to have a successful inclusion. An excellent teacher who is skilled for inclusion becomes an extraordinary teacher.
Parents need to also be informed, learn and empower themselves to help their children in this path, inclusion requires team work and the most valuable members are the parents. Parents need to focus on learning to help their children, and that means also to recognize things that need to be worked on and being persistent on these things without guilt.
It is also important to recognize that inclusion is a human right, not charity. A lot of associations are working towards inclusion, respect and equal opportunities. There are a lot of myths, preconceptions, or lack of information that make this task harder. These associations work to create awareness, and educate about equality, including avoiding name calling and labeling people with Down Syndrome or disabilities. When we use names to describe a person with Down syndrome or a disability, we are making them different and not part of, which makes inclusion more difficult.
Inclusion has to be a commitment between the parents, the teacher and the educational institution, that needs to put in the same effort to every student that becomes part of their school. In spite of that, the Ministry of Education of Guatemala already has a department that can help schools with inclusion.
Another problem in Guatemala is that there isn´t any educational degree for special education, or some of other therapeutic degree, leading to the lack of professionals that may manage or follow up on the work of inclusion. We need to have these university degrees and start to, not only have inclusion, but a social culture of inclusion.
Inclusion does not only benefit students with disabilities, but also regular students, because they develop to more humane individuals, with a higher degree of tolerance, solidarity and respect for others. With the rejection of children with disabilities in regular schools we are teaching our future generations to refuse to include people that make an effort to success who want to learn to form part of a society and be productive; we teach them instead to be competitive rather than humanistic.
https://trinus.org/wp-content/uploads/2020/10/School2-Copyright-Lauren-Shear1-620x220-1.jpg
715
800
cassandra
https://trinus.org/wp-content/uploads/2022/01/logo-trinus.png
cassandra
2020-10-20 16:00:38
2022-02-01 13:23:11
Inclusion in education in Guatemala, is it lacking?