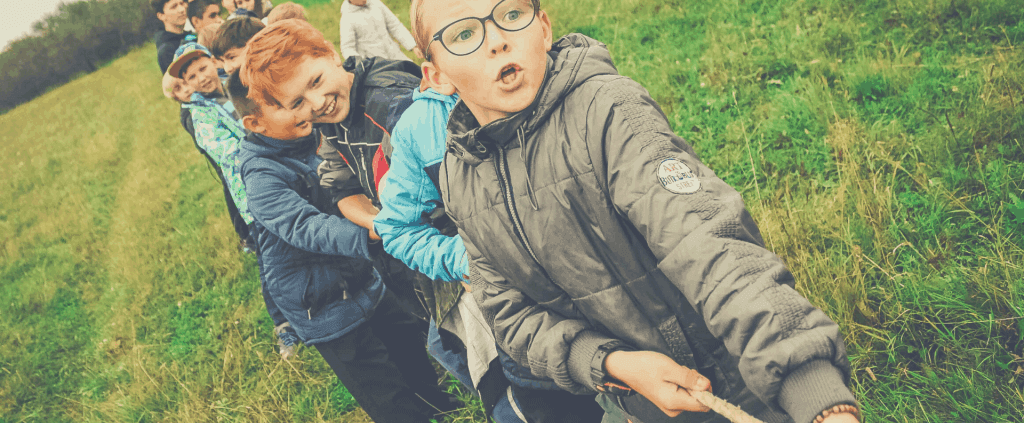 Children get bored easily, and keeping them entertained can be hard work. Great games for kids can spike up a birthday party with friends. In a family setting, they can also create special moments and fantastic memories for years to come.
Regardless of your child's age, you should find the perfect games that your little one will love. Some of them can be homemade, while others can be found in most children's stores.
Old-School Games
Our dear old-school games can sometimes be much more fun than the newest ones on the block. This is, of course, if you don't tell your kid they're vintage.
What we love about these games is that they're accessible to anyone, anytime. You don't need to purchase any equipment or supplies. Here are our favorite ones.
The Telephone Game
This game is suitable for kids of all ages and will generally provoke lots of laughter. You will need at least several kiddos or family members to play this game—the more, the better. Place them sitting down, forming a straight line.
The first child whispers a word to his or her neighbor's ear, who then repeats the word to the next person sitting beside them. The whisper continues until it reaches the last child, who then says what they've heard. For more of a challenge, pass-on a sentence instead of a word!
Musical Chairs
To play this game, you'll only need chairs—one less than the number of kids playing. If five little ones are participating, only set up four chairs. Position them in a circle, with the backs towards the center.
Let them walk, run, or dance around the chairs to music. At your signal, when you pause the music, they'll have to rush and sit on one. One child will remain standing and will be removed from the game.
Remove one chair and repeat until you have a winner!
Active Games
Physical activity is crucial for any child, and at all ages. If you'd like your little one to get some exercise while playing, there are plenty of excellent options.
Hide And Seek
"Hide and seek" is a classic and never disappoints. It can be done both indoors and outdoors and is a popular game for all children. Plus, it can be played with any number of kids or adults you have at home.
The only element this game requires is good hiding spots!
Indoor Obstacle Course
This game should also get your child moving. It consists of placing objects on the floor and around the house to create an obstacle course. Parents then create rules around each item.
For instance, children would have to crawl under a chair, balance along a piece of tape on the floor, then use a hula hoop. Kids who reach the finish line with all obstacles completed the right way get a point. The game can last as long as your kiddos' endurance!
Scavenger Hunt
You'll find scavenger hunts to purchase that are ready-to-play, but you can also make your own. Kids have a list of items to find in various rooms of the house or garden. The one who finds them all first wins the game.
These types of games require some thinking and independence. While they're best suited for older kids, young ones can team-up to take part.
Sports
Organized sports can be a blast as well. Soccer, basketball, baseball, and softball are all great team sports. Then there are individual sports like tennis. These sports can teach kids about teamwork and competition too.
Memory Games
Memory games are fantastic activities to work children's brain function and learn to store information. Most of them can also introduce new vocabulary.
Memory Cards
You'll find many card games featuring popular illustrations such as Disney characters or superheroes. If you're looking for a more educational memory game, some of them display animals, birds, or plants.
You could also make some DIY cards at home by printing the same pictures twice. Your child may be thrilled to play with a custom dinosaur or truck memory game. Some parents even use photos of family members.
What's Missing?
This game can be played anywhere, anytime on the fly. Not only does it test a child's memory, but young toddlers should be able to learn new words. You could create the game with fruit, toiletries, or even regular home objects.
Start by placing a number of items on a tray. The longer you talk about each object—colors, shape, purpose—the easier it is for the child to find the missing object.
Let your child observe each of them for a minute. Then ask them to cover or close their eyes and remove one of them. Your kiddo will have to guess which one is missing.
To increase the challenge, start adding more objects. You could even remove more than one object at a time.
Intellectual Games
Great games for kids also include those that'll make your child think and build strategies.
Connect 4
Connect 4 is another classic game that withstood time and fashion waves. It's also a game that can easily pass from one generation to the next.
The concept of this game is simple. It comes with a vertical grill and red and yellow disks. The winner is the one who can place four discs of the same color in a row, either vertically, horizontally, or diagonally without being blocked by the opponent.
This teaches your child how to create a strategy. Your kid will also have to watch the opponent's game, planning for the next move.
Battleship
Although Battleship can be played by all kids, it's very popular among the boys. Your child places ships of various sizes on a grid—showcasing numbers horizontally and letters vertically.
Players need to call a boat by guessing its exact position—such as A7. They'll then have to figure out the length of each ship to sink it entirely. It's a fantastic strategy game that also allows kids to practice tactics, numbers, and letters.
Puzzles
Puzzles are a great game to get your little one thinking. They enhance hand-eye coordination and fine motor skills for the youngest ones. It can also teach patience and logic.
There are different types of puzzles designed for all ages. Models aimed at young toddlers are typically made of wood and come with knobs for little hands to grab.
Toddlers can also try out two-piece puzzles before pushing the challenge to more complicated models. Puzzles can easily turn into a hobby that continues into adulthood.
Creative Games
Other activities are fantastic to develop our kiddos' creativity, imagination, and artistic side. They generally make excellent family games, bringing laughter and building bonds.
Pictionary
Who hasn't played Pictionary at one point in their life? This game can also be made at home by creating cards from which kids pick. The goal is to draw the word well enough for the rest of the players to guess it.
This game may uncover real talents and little artists!
Charades
If your child isn't about drawing, what about acting? This game consists of describing a word only with movements, without speaking, and in a set amount of time.
It's a good method to get your child to think outside of the box. It also encourages self-expression and is engaging even for older kids—and adults.
You'll find charade games ready-to-play. Other parents print pictures and fold them up before placing them in a bucket for kids to choose from. Either way, it should bring entertainment for everyone!
Board Games
If you're looking for games to play on vacation or to create quality family time, there are a few worth considering.
Monopoly
Monopoly is one that can't be ignored, although young kids may need to be teamed up with someone older. While my favorite remains the classic model, it now comes in "Avenger," "Lion King," or even "Star Wars" versions.
Labyrinth
This is another popular game that can be played in a family setting with up to four players. The characters need to find the fastest route through the labyrinth to reach the final line.
Game Over
If you're looking for a great game for kids, there are plenty to choose from. Some can be created using objects at home, while others are popular games available to purchase in-store or online. Either way, they create fantastic memories, whether playing with friends or family.
These games are generally educational and should keep your kiddo away from electronic devices. What better ways to combine learning and fun?
https://trinus.org/wp-content/uploads/2020/09/activies.png
683
1024
cassandra
https://trinus.org/wp-content/uploads/2022/01/logo-trinus.png
cassandra
2020-09-08 21:14:35
2022-02-02 14:16:51
Great games for kids